Plan your schedule – In-Person, Online or Outdoor Class options to fit your comfort level and schedule!
Online Class Packages-

$5: Single Online Class
$40: Unlimited Online Classes
In-Person Monthly Unlimited Option-
$129 Auto-Renewing:
Includes in-person up to 30 classes a month, access to our online library and online classes
$100 for a 10-pack of classes
$55 for a 5-pack of classes
$15 single drop-in
$10 student/senior drop-in
Outdoor Classes-
$5 per class
Join us online with our $40 Monthly Unlimited! You can join us from ANYWHERE. That's the beauty!
We love to see our clients who have moved, friends who don't live around here, people who can't make it or aren't comfortable for in-person classes, and anyone who wants to workout without leaving their living room!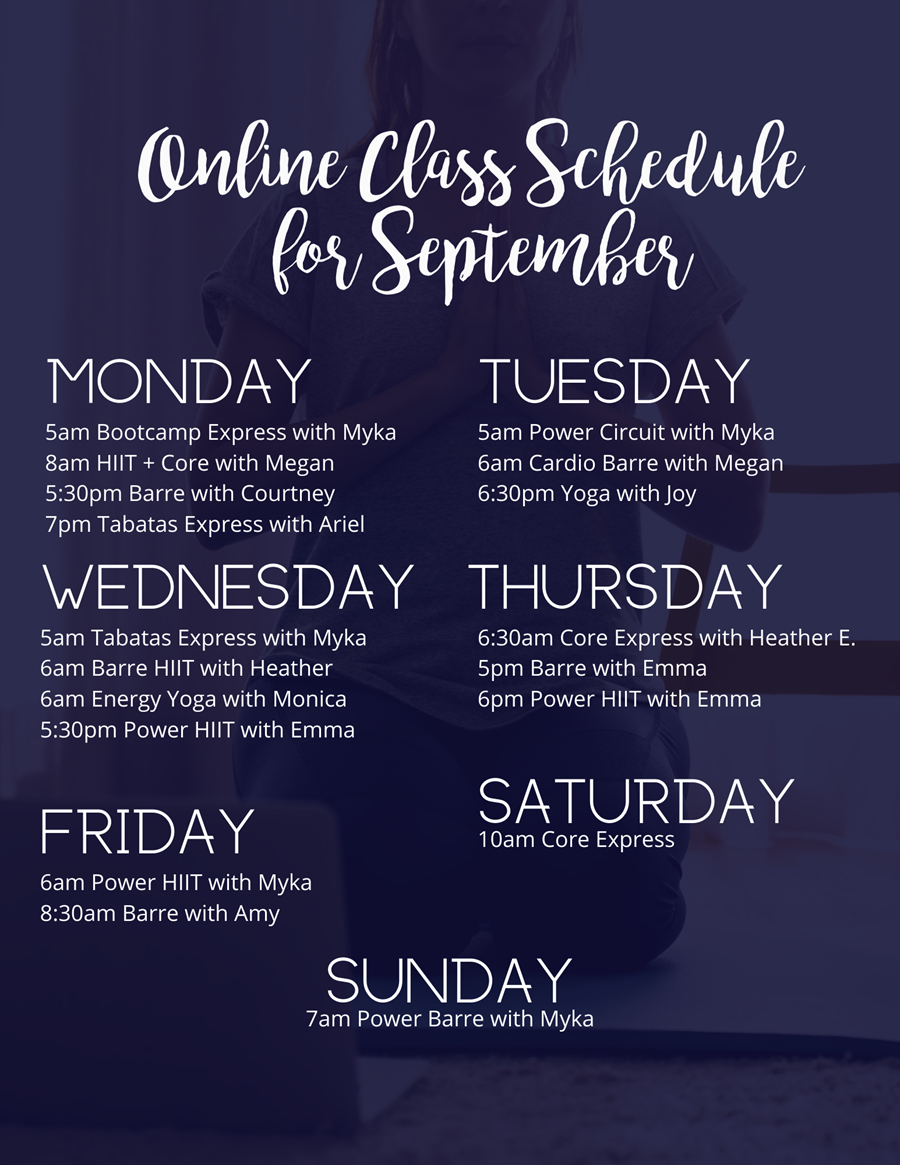 Because of the limited class sizes, we ask that you give us 24-hour notice on class cancelations to avoid being charged the class as a late cancel. You can email us at info@h2lstudio.com or just cancel online 24-hours in advance and it will automatically put the class back on your account for future use.
We encourage you to sign up for classes early as we do expect the limited spaces to fill. Thank you guys so much for your continued support during this pandemic and always! We are so grateful for this community and cannot wait to see you in the studio!
Reach out with any questions! We're here for you!
H2L
Outdoor Class Schedule:

Wednesdays at 7:30pm – Tabatas Express with Ariel
Thursdays at 7pm – Yoga with Deborah
Saturdays at 7am – Bootcamp
Sundays at 6:30pm – Barre
 *Bring your own mat, wear your mask to your spot before you take it off!
*We meet at the back of the parking lot so please pull in to the right.
Fresh air, working out under the sun or moon.. does it get better than that?!
Come stretch and move under the moon with Deborah on Friday, October 2nd at 6pm.
This all-level Vinyasa Yoga Class will feature a gentle, flowing style, perfect to practice during the full moon. Incorporating Moon Salutations during class will allow students to move side to side instead of front to back, completing a circle with each round, and reflecting the cool and calming nature of the moon itself. Please bring your yoga mat, blanket, pillow and water. Please wear your mask until you are on your mat, 6-feet away from others then you can remove it.
*THIS WILL TAKE PLACE AT THE MECHANICSBURG REC DEPARTMENT OFFICE.*
1731 S. York Street, Mechanicsburg .. please Park in the Middle School Parking lot and walk over!
Feel free to sign up in advance, or just show up that day ready to move!